Tote Bags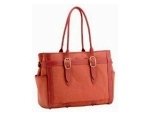 We manufacture various kinds of leather tote bags and also canvas tote bags as per buyers requirement. Leather tote bags are all the rage these days. In fact, you certainly can't go wrong with a large leather tote bag to go with anything you wear. Before black leather tote bags has been the standard for many years, but nowadays everyone is looking for fashionable colors. We manufacture wide range of exciting colors of tote bags for women. Leather Tote bags and canvas tote bags are manufactured in all kinds of shapes and colors.
The colors which look good in all seasons are great choices for versatile handbags. In fact, bags in these timeless colors are also great choices for the office. No longer do women have to dress overly conservative in the business world. They can show their fashion sense with a black leather tote bag or even colorful leather tote bags. That's why the demand for black leather tote bags or colorful leather tote bags are almost same in the market.
Nowadays buyer's looks for manufacturing leather tote bags and canvas tote bag in so many attractive colors which fit all seasons apart from neutral colors, , including red, navy, and deep green. Certain shades of yellow and orange also looks great to look bright and attractive are also in demand. Some international buyers request us to use very light pastel colors such as light blue, pink, and cream. Leather Tote bags are manufactured in so many colors and sizes. The demand of leather Tote colors keep on changing time to time.
As a leather tote bag manufacturers, When we look for Leather Tote bags design aspect, aside from colors, other things to look out for are embellishments. While most totes follow a very simple, streamlined design, there are some that feature buckles and other hardware, much like leather handbags. These embellishments give the bag a classy look, making them the better choice for work or semi-formal events. Mostly we manufacture leather Tote bags as per buyers design and specification. We manufacture various sizes from handy medium leather tote bags to large one ideal for shopping. Some of the tote bags are having packets made to fit a particular gadget with exact measurement.
Need Quality Tote Bags? Get Manufactured by Us.
As one of the leading leather tote bag manufacturers ,we make so many designs and innovation in leather tote bags and canvas tote bags.If you are looking for a quality leather tote bag manufacturers in India who can manufacture high-quality leather tote bags, you are at the right place. We manufacture all types and variety of Leather tote bags to suits your requirement. Most of the leather Tote bags for woman are made of top grain cowhide leather and high quality hardware and construction. Your satisfaction is 100% guaranteed. If you are looking for manufacturer who can make economical leather tote bags, that is also possible. It all depends on a buyer what he is looking for in his product manufacturing.
Leather Tote Bags Manufacturers - Apex Leather Goods