Purses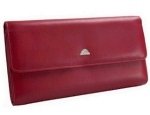 We are manufacturing variety of leather ladies purses in so many styles and design from so many years. Leather purses have always been very important to women due to their durability and timeless style, whether they are standard black purses, versatile brown purses, or colorful leather purses, each woman has her own style and that's why we manufacture leather ladies purses to match their need and style. Leather purse is an evergreen leather product and lots of buyers prefer to get manufactured this product along with other leather goods they order us.
Manufacturing Quality Leather Womens Purses
Generally leather purses are available in neutral colors in the market but we suggest our buyer to go for attractive colors for this particular leather product. We always take care of design and color of leather purses seriously because this leather product is mostly for women. Womens purses are always made in very high quality finish and very stylish. These womens purses are great in demand and an evergreen leather product.
We as manufacturer of several leather products love to manufacture leather purses with so many variety of different colors that are great for all seasons in addition to the traditional black leather purses and the standard brown leather purse. Some of the most popular choices for colored leather are red and navy. We also manufacture leather purses in light colors such as light blue, pink, yellow, and cream to pair perfectly with light-colored clothing. These all we think while designing a leather purse. Most of our buyers offer us their own design and specifications to manufacture their leather purse.
As said earlier that we manufacture wide variety of purses in all different sizes and colors. Apart from standard sizes of leather purse, we manufacture custom sizes also. Our line-up of handbags and purses also features all kinds of embellishments. If you're looking for something with a more bohemian look, you'll definitely love our fringed bags. Some even come with a bit of beading for a touch of down-to-earth glam. On the other hand, if you're more of a modern chic woman, you can also find leather bags accented with printed canvas. All possible feature and small packets are incorporated as per design and specification given by our buyers.
Leather purses for women are mostly manufactured of top grain cowhide leather with high quality hardware and construction. We offer all option to a buyer what they want in their leather product. We also offer economical manufacturing of leather purses as per buyer request. Also we make sure that we deliver the product on time. Your satisfaction is guaranteed.
Leather Purses Manufacturers - Apex Leather Goods