Pilot Cases
Pilot Cases | Leather Pilot Case Manufacturers India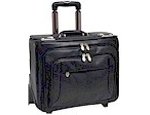 We manufacture top quality durable and reliable Pilot cases useful for aviation professionals. These leather pilot case are made keeping in mind about these aviation professional needs and requirement. Due to their long hours and the distances they travel, there is no doubt that pilots have a demanding job. To keep up with that, they need pilot cases made especially for the task at hand. The quality and hardware used to manufacture these pilot cases depends on the buyers design and specifications. Most of the pilot cases are of standard look and shape with common features allowing to carry everything a pilot needs on plane or the ground. These pilot cases are also used as catalog cases for urban professionals who need heavy duty bag for carrying documents.
Pilot Cases Made for Heavy Use
Pilot cases are manufactured mostly of top grain leather and to make it for heavy use, we also reinforce steel frames and steel core handles with top grain tough leather. These help the cases retain their shape over the years, even withstanding rough handling. These reinforcements also keep delicate items such as flight equipment safe within the case interior. Because edges are often the first to wear out in bags such as these, some of our aviator cases also feature protective bumper edges. By reinforcing the edges, these bags are able to retain their good looks over time. With proper care, they'll even be able to age well and grow in value.
As a leather goods manufacturer we mostly follow the design and specifications provided by a buyer. We manufacture high quality leather pilot cases at very best price which are very durable and made tough for everyday use by these aviator professionals. Some of the pilot cases are also made with removable wheels as well.
Leather Pilot Cases Manufacturers - Apex Leather Goods