PadFolios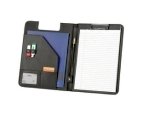 Leather padfolios mostly for corporate professional needs are manufactured in very professional styles. These leather folio is made of high quality leather material and hardware. Leather padfolio is made as per buyers given design specifications. Carrying Leather Padfolios makes a person have confidence and creates good image while in an interview or meeting. As you might already know, image plays a significant part in the path to a more successful career. The impression you make in meetings and interviews can mean the difference between being considered for a promotion or a job and being forgotten by upper management. Leather padfolios can help you step up and increase your chances of achieving the former. Leather padfolio not only helps remember important details, but also let whomever you're speaking will know that you're prepared, organized, and truly interested in getting the details you need to make the meeting worthwhile.
Leather padfolios are mostly made of top grain cowhide leather with high quality hardware and construction which is durable and looks excellent. We manufacture a wide range of padfolio options to suit the professional look you desire. We also offer iPad holders that come with a built-in Bluetooth keyboard. Each option also comes in different sizes and colors. These colors include: black, burgundy, mahogany, walnut, cognac, and tan. We also offer bright colors such as blue, pink, and red for the more creative and daring professional. Here we give options to our buyer what they want in their leather padfolio. Apart from quality design and manufacturing we also offer a great price to our buyers. The price for manufacturing leather products are so attractive that any buyer will love to associate with us.
We also manufacture leather padfolios for corporate companies for their gifting needs on different occasions. A leather padfolio makes a great graduation gift or corporate gift. Our padfolios make a good first impression during an interview and are highly functional for taking notes at meetings. Just like our selection of leather portfolios, we can personalize leather padfolios with your company logo or your personal initials.
If you are looking for manufacturing any leather products or leather padfolios , we can do all you need and design a product the way you like it. All options can be incorporated in leather padfolio in a compact manner keeping the correct size and best price. On time delivery of product is also one most important factor we take seriously so that our buyer gets their product on time and they are able to deliver to their client on time without fail. We are fully committed to make you fully satisfied with your leather product manufacturing with us.Some of the extra feature in a product if needed by a buyer ,we can add without charging extra on buyers request, if buyers request us before starting the production of their leather products.We love to make you happy .
Leather Padfolios for your reference is follows:
Leather PadFolios Manufacturers - Apex Leather Goods