Messenger Bags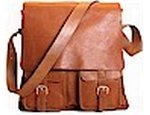 As a leather Messenger bag Manufacturer, we manufacture variety of classic and contemporary messenger bags for men for a chic look you'll love. Our messenger bags offer a perfect way for men and women to carry documents, electronics, and personal necessities in style. These messenger bags can go anywhere you want to take them—to the office, classroom, airport, home, and more. We can manufacture all type of Leather messenger bag as per your design requirement. Nowadays Messenger Bags for Men are great in demand by our international buyers.
All our leather messenger bags are manufactured that's not just durable, but also timelessly fashionable. We manufacture leather products that are made to last and look great, and our messenger bags are no different. These bags blend casual style and luxury, thanks to high-quality materials like soft Italian leather and fine metals for the extra details. Whether you want a leather messenger bag to carry your laptop or a Euro-style sling bag to fit all your small accessories, we can manufacture all you need. Everything is possible here.
You can find here wide selection of messenger bags with padded shoulder straps, zippered pouches, and flap-over closures. We manufacture bags that give off a vintage vibe and others that look decidedly modern. No matter what you are searching for in terms of features or looks, we can incorporate all. We manufacture leather messenger bags of standard and nonstandard sizes as per buyer's request. Measurement details given for all our leather messenger bags also allow you to check if it'll fit certain belongings you have such as books or gadgets. We can change the design requirement the way you want.
We as a leather goods manufacturer we make sure that the final product delivered to our buyer are of high quality and of excellent finish. We assure 100% satisfaction to our buyers. On time delivery is also one factor which most buyers prefer us.
Leather Messenger Bags Manufacturers - Apex Leather Goods