Desk Accessories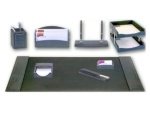 Leather Desk Accessories and Office desk accessories Adds Order and Style to Any Office,When you need things to keep all your materials organized in your office or cubicle, one of the best things to invest in is a complete array of desk accessories. But the need for them goes beyond just organization. These cool desk accessories are made as per buyers design specification.Leather Desk accessories are manufactured in large number and exported worldwide.Desk accessories are made to order as per client given design also at very best price
As a large leather desk accessories manufacturer, we understand the exact need and style of a desk accessories. Leather Desk Accessories should convey a sense of authority, order, and clarity .It says all about a person's mind , it say all when they see your desk? Does it, or does it bring to mind the old adage, "cluttered desk, and cluttered mind?"
We also manufacture wide range of desk accessories for women, desk sets, cool desk accessories and leather desk accessories for our buyers which is in great demand worldwide. Leather cute Desk Accessories helps one portray the right kind of professional image. These office desk accessories and desk accessories for women made from the highest quality materials and are designed with an elegant-contemporary look. We can manufacture a number of cute desk accessories in so many styles and colors as per your requirement and design specifications.
Desk Sets and Accessories
We manufacture complete desk sets that include desk pads, pencil cups, letter openers, letter trays, business card holders, and pen stands. We also design and redesign seeing your design and specifications keeping your exact requirement in mind. We offer all required options, we make desk sets & accessories made from Italian cowhide leather and others made from beautiful crocodile leather or can be made from leather specified by you.
Apart from manufacturing desk accessory sets, We also manufacture individual leather desk accessories. Aside from the same items as those in each of our sets, we also make mouse pads, scissors, memo cases, and calendar holders for individuals. Leather iPad holders are also manufactured for the tech-savvy professional. Whatever we need to organize our desk in style, we can make it.
Aside from accessories for individual offices or cubicles, we also manufacture a number of products designed for conference rooms. Leather desk pads for each place on the conference table instantly adds class to the room, but to add more functionality and to ensure that every participant has what they need for an efficient meeting, we can also manufacture with a complete set of pen stands and coasters to match. I mean we can do everything for a buyer's need.
Leather Goods Manufacturing with Us
Whether you're manufacturing these leather desk sets for your buyer or for a corporate need, individual company gifts, or as a corporate Christmas gift, you'll be impressed by our quality and finish. We as a leather goods manufacturers provide the finest materials and excellent attention to detail requirement of a buyer. Try Us.
Leather Desk Accessories Manufacturers - Apex Leather Goods