Catalog Cases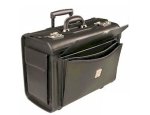 Manufacturers of High Quality Catalog Cases & rolling catalog case to protect and transport important documents. Among the different types of briefcases, catalog cases ,rolling catalog case,wheeled catalog case are the best choice for professionals who need sturdy bags able to securely hold a great number of documents as well as other office essentials. Our in-house team designer provides a wide selection of both rolling catalog case and hand-carry cases to suit different needs.We manufacture quality leather catalog case and these leather catalog case are manufactured in so many style design to suit ones need.We export leather catalog case and wheeled catalog case worldwide. Catalog case on wheels are easy to handle if so many heavy document material has to be carried.
Catalog cases can be made from top grain cowhide leather or leather specified by you, featuring high-quality hardware and construction, the products here will certainly provide the strength and durability you need to keep your most important documents safe from the elements. A variety of designs we manufacture for buyers as per design specification which best suits for office style.
World Class Selection of Wheeled and Hand-Carried Cases to Buyers for Corporate Style
While cases are all made with practical functionality in mind, we know that the discerning professional also looks beyond function for an accessory that adds to his overall image. After all, the way a person presents himself matters greatly in business.
Here as professional leather goods manufacturers we offer great range of leather catalog cases to suit your exact design and given. Backed by their years of experience in the leather industry, these brands are able to produce bags that are timeless and stylish—ideal for any ambitious professional.
Cases generally are manufactured in two forms: wheeled and hand-carried. The hand-carried variant is made to feel more like a large briefcase and is ideal for professionals who don't need to take their documents everywhere. On the other hand, the wheeled catalog case is the better option for frequent travelers or businessmen who need to move a great number of documents from one meeting venue to the next. The size and color or leather are used as per buyers design requirement.
While a rolling briefcase can also fulfill the role of a wheeled case, the advantage a catalog case offers is its roomy construction and stiff shape. These make it more ideal for carrying a variety of paper documents.
Our Commitment to Quality excellent Products finish and on time delivery
As with all our leather products, our cases are selected to not only meet the needs of customers but also a high standard of service. That's because our company greatly values customer experience. Thus, even the companies we partner with are also held to the same standards. By doing so, we ensure that all our Buyers can feel confident about the quality of every order they make through us.
Top quality Leather Catalog for reference are as follows:
Leather Catalog Cases Manufacturers - Apex Leather Goods