Accessories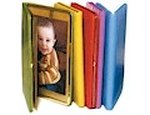 We are leading leather accessories manufacturers and We manufacture various kinds of leather accessories .We are also leather accessories exporters worldwide. We here offer various type of Leather accessories which are generally made of full-grain leather to give them a great look and feel, as well as excellent longevity. We manufacture all type of leather accessories as per buyer requirement .The type of leather, design and specification is given by the buyer.
Here we manufacture all leather accessories like for one's personal use or for home. While many of these make great leather gift ideas, many of the products here make ideal treats if you're looking for something special to complement the way you present yourself at work.
Leather accessories manufactured by us is of high quality and excellent finish. Like wallets, our leather passport holders, planners, and business card holders looks polished and presentable look for an end consumer. A buyer presenting our passport holder with passport at the airport, our accessories let you rest assured that you're putting your best foot forward in any encounter.
We have various kinds of leather accessories like pad folios and portfolios to hold your notes and all your other meeting essentials well designed and manufactured by our own team, our collection of business accessories will surely leave a great impression on your associates and perhaps, even your buyers.
As a buyer if your requirement is for manufacturing leather accessories for technological tools for the workplace, we have a selection of leather accessories for you. Our selection of iPad cases range from simple products made with high-quality materials to accessories that not only protect your gadget, but also add to its functionality and usability. Encased in leather, any gadget will certainly gain a workplace-friendly look.
Thinking of leather for the home and not for the workplace? We also have you covered with our array of boxes, caddies, and valets that give your living space a posh look while helping you keep things organized.Here,We value customer satisfaction. Because of that, all our featured leather accessories come with an assurance of quality. We assure you 100% satisfaction with all our leather accessories manufactured by us.
Leather Accessories Manufacturers - Apex Leather Goods